How To: Generate a Frequency Divider in New Basler Cameras#
Assume the following:
You want to acquire images from a Basler ace 2, boost, or dart IMX camera with a hardware trigger.
The trigger source frequency is higher than your targeted image acquisition.
A clever use of the Counter feature will help you to create a kind of frequency divider.
For example, consider that you want to acquire an image every 15th trigger.
First, set up counter 1:
Assign the CounterEventSource parameter to the desired hardware line.
Set the CounterResetSource parameter to ExposureActive.
Set the CounterResetActivation parameter to FallingEdge. The counter will then reset once the exposure is completed (exposure active falling edge).
Set the CounterDuration parameter to a value of 15. Every trigger input will increment the counter.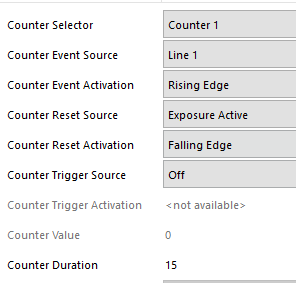 Finally, set the trigger source of the Frame Start trigger to Counter 1 End.
Now, the counter generates a Counter End event once it reaches 15. The Counter End event triggers a frame start, and an image is being acquired.

Once the exposure is completed, exposure active goes down, which resets the counter, and the cycle continues.